SCRATCH Programming
Scratch is free visual programming language. You will learn how to create your own interactive stories, amazing games, animated images and songs in just minutes with a simple 'drag and drop' interface. No programming knowledge needed. You can also share your creations with others in the online community.
Scratch helps you to think creatively, reason systematically, and work collaboratively. This course is suitable for all ages. It doesn't matter how old you are… So Get Ready for Exciting Journey in the World of SCRATCH…!!!
Why take Admission?
Scratch's networking infrastructure, coupled with its multilingual capabilities, enables youth to share their digital-arts creations with other youth across geographic, language, and cultural boundaries.
The skills learnt through Scratch can be applied to other basic programming languages like Python and Java.
Scratch flexibility allows teachers to create conceptual and visual lessons and science lab assignments. Within the social sciences, instructors can create quizzes, games and tutorials that stimulate the mind and interact with the learner.
Certification & Important Dates
Certification:
MKCL provides certificate to the KLiC learner after his/her successful course completion.
Important Dates:
Batch Commencement: One batch in each calendar month (January to December)
Date(s) of Application and Fee Payment by Learner: 1st – 30th day of each calendar month
Date(s) of Learner Confirmation by ALC: 1st – 30th day of each calendar month
Course Start Date and Date of Issuing Learner Login: Date of admission confirmation
Academic Approach
The course focuses on practical knowledge and application. The aim is to make the learner efficient and to offer him or her rewarding career.
Learning Methodology
The participants get the Overview of the course, use of tools and their application in real life
He or She learns about available career opportunities, roles to be performed at the workplace
Learner gets to know various parts, functions and inter relations of the tool
At the Beginner Level, the learner knows the Simple Application Development Technology
Encourage him or her to develop integral skills required to make them job-ready
Syllabus
Skills: Computational skills and programming concepts (like sequences, iteration, conditionals, variables, and data structures), problem-solving, project-design skills like reasoning logically, debugging problems, developing ideas from primary concepts to final completed project, and concentration & focus.
Outputs: Creating Animations, Interactive Stories, Games, Shooting Game, Aquarium, Dancing Queen, Greeting Card, Whirling Crab
Detailed Syllabus:
Introduction
What are Visual Editors?
Introduction to Scratch
The Scratch User Interface
Let's Start Scratching
Dancing is also a Program!
Step-by-Step
Some Steps Further
Case Study – Aquarium
Planning a Project
Creating an Interactive Project
Case Study – Greeting card
Animations
Performing Scripts
Build a Band
Pink Circle, Blue Square
Animation Projects
Case Study – Colorful Parrot
Stories
Characters
Conversations and Scenes
Case Study – Dancing Queen
Creature Creation
Case Study – Dialogue
Games
Starter Games
Scores and timing
Case Study – Creating Your Own Sprite
Case Study – Whirling Crab
Diving Deeper
Cloning
Video Sensing
Case Study – Emotions
Case Study – Electrical Circuit
Scratch Online
Setting up a Scratch Account
Creating an Online Project
Exploring Online Projects
Scratch Studios
Evaluation Pattern
Evaluation Pattern of KLiC Courses consists of 4 Sections as per below table: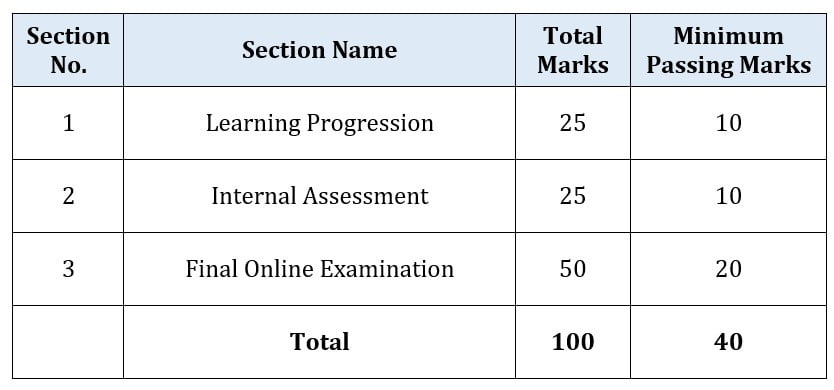 MKCL's KLiC Certificate will be provided to the learner who will satisfy the below criteria:
Learners who have successfully completed above mentioned 3 Sections i.e. Section 1, Section 2 and Section 3
Additionally, learner should have completed Section 4 (i.e. Section 4 will comprise of SUPWs i.e. Socially Useful and Productive Work in form of Assignments)
Learner has to complete and upload minimum 2 out of 5 Assignments