Cyber Security
This course serves as an introduction to the exciting field of cyber security. As our daily lives become more and more dependent on Internet-based tools and services, and as those platforms accumulate our sensitive data, the demand grows for experts in the field of cyber security.https://www.kaspersky.com/resource-center/definitions/what-is-cyber-security
Almost everyone around us type at the keyboard of computers or tablets and use their smart phones daily. Computing and communications technologies have become an integral part of our life and in the context of this technology-rich environment the term "cyber space" often arises. KLiC Cyber Security course is designed for the young aspirants who wants to shape their careers in IT Security field.
Why take Admission?
In this course, you will get an overview of the cyber security, various types of viruses and malware, how to protect our system from viruses, types of cyber-attacks, various tools used for cyber-attacks, how to secure system from cyber-attacks. After completing this course, you will get various Career Opportunities like:
Security Consultant.
Information Security Analyst.
Ethical Hackers.
Computer Forensics Analysts.
Chief Information Security Officer.
Penetration Tester.
IT Security Consultant.
Certification & Important Dates
Certification:
MKCL provides certificate to the KLiC learner after his/her successful course completion.
Important Dates:
Batch Commencement: One batch in each calendar month (January to December)
Date(s) of Application and Fee Payment by Learner: 1st – 30th day of each calendar month
Date(s) of Learner Confirmation by ALC: 1st – 30th day of each calendar month
Course Start Date and Date of Issuing Learner Login: Date of admission confirmation
Academic Approach
The course focuses on practical knowledge and application. The aim is to make the learner efficient and to offer him or her rewarding career.
Learning Methodology
The participants get the Overview of the course, use of tools and their application in real life
He or She learns about available career opportunities, roles to be performed at the workplace
Learner gets to know various parts, functions and inter relations of the tool
At the Beginner Level, the learner knows the Simple Application Development Technology
Encourage him or her to develop integral skills required to make them job-ready
Syllabus
Overview of Computer Viruses
Downloading and Installing Good Antivirus Software
Rootkits
Botnets
Ransomware
Securing Personal computers and Operating Systems
Patch Management
Patch Deployment and verification
Installing and configuring Open Source Firewall
Network Intrusion Detection and Prevention System
Network Load Balancers
Setting LAB environment
VPN Configuration
Types of Cyber Attacks
Phishing and Spoofing attacks
Social Engineering
Using Network Packet Analyzers
Ethical Hacking
Foot printing
Open Source Security Scanning tools like NMAP
Using Kali Linux for exploring various Ethical Hacking Tools
Evaluation Pattern
Evaluation Pattern of KLiC Courses consists of 4 Sections as per below table: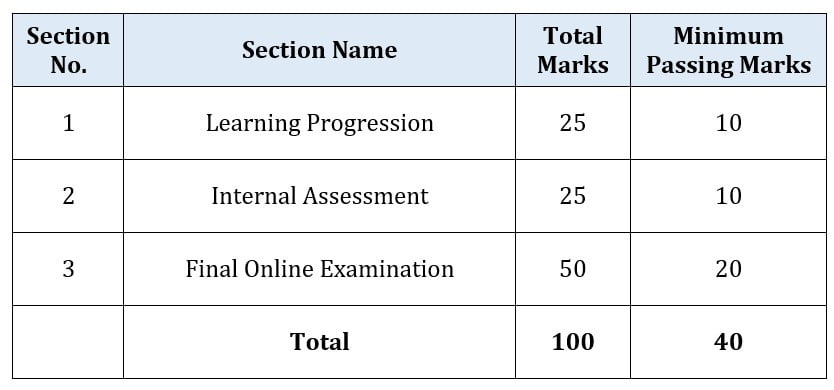 MKCL's KLiC Certificate will be provided to the learner who will satisfy the below criteria: