Graphic Designer
Introduction
Who is a Graphic Designer?
Graphic Designer is the one who designs, creates, edits, manipulates various types of graphics.
These graphics can be Photographs, pictures, drawings, icons, line arts, paintings etc.https://en.wikipedia.org/wiki/Graphic_designer
What does Graphic Designer Do?
Using all these types of graphics, he/she can create flyers, posters, magazines, hoardings, book covers, brochures, product catalogs etc. He/She can also create web banners, buttons, icons, photomerge (collage), photo editing etc.
Product packaging design, User Interface design, Corporate identity profiling are few more services a graphic designer can offer.
Why take Admission?
A graphic designer can work with companies/enterprises working in print, web, multimedia, eLearning and gaming industry.
Bachelor's Degree/ Diploma in graphic design or a related field is usually required for jobs in this field. Candidates should demonstrate their creativity and originality through a professional portfolio that features their best designs. He/She can do a job or can work as a freelance designer. A fresher can draw up to Rs. 100,000/- p.a.
Hierarchy
In a typical print industry enterprise such as an advertising agency, he/she would work with a team of more graphic designers and an Art director who would guide them. In a web designing/multimedia firm, he/she would be a part of graphic designing / digital creations / content development team. He/She can further pursue to become a senior graphic designer or a web designer as per his/her liking and abilities.
Tools
Typically a graphic designer uses tools like Adobe Illustrator, Adobe InDesign, Adobe Photoshop for graphics creation and editing. Knowledge of few other tools like CorelDraw, Flash (graphics creation and basic animation) and few similar open source tools can be beneficial for a graphic designer.
Academic Approach
The course focuses on practical knowledge and application. The aim is to make the learner efficient and to offer him or her rewarding career.
Learning Methodology
· The participants get the Overview of the course, use of tools and their application in real life
· He or She learns about available career opportunities, roles to be performed at the workplace
· Learner gets to know various parts, functions and inter relations of the tool
· At the Beginner Level, the learner knows the Simple Application Development Technology
· Encourage him or her to develop integral skills required to make them job-ready
Graphic Designing
Adobe Illustrator
Skills : Working Place, Customizing, Tools, Layer And Layer Options, Pen, Pencils and Paths, Using the Brush and Paint, Specialized Tools, Getting Creative with Types, Using the Symbols, Designing Graphics, Effects and Filters, Playing With Palettes Select, View and Object, Automating, Exporting, Web and Devices
Outputs: Business Card, Labels, Letterhead, Coupon, Identity Card, Jewel Case Design, Book Mark, Sticker, Envelope, Magazine Advertisement
Adobe Photoshop
Skills: Working Place, Customizing, Image and Color Modifications, Case Study – Black & White to Color, Using the Brush and Paint, Working with Selections, Scaling, Knowing the Layers, Filter Gallery, Color Adjustments
Outputs: Web Layout Design, Web Banner, Advertisement, UI Design
Adobe InDesign
Skills: Creating and Viewing a Document, Managing Pages and Books, Managing Text , Formatting , Working with Objects, Working with Points and Paths, Case Study- Book Cover, Applying and Managing Colors, Working with Tables, Working with Styles, Printing and Outputting a Document, Setting Preferences
Outputs: Story books, Wall Calendar, Newsletter, Maps, Menu Card, Magazine Cover Page, Recipe Book, Book Cover
Detailed Syllabus:
Adobe Illustrator
· Basics of Illustrator CS4
· Introduction
· The Working Place
· Customizing
· Tools
· Layer And Layer Options
· Pen, Pencils and Paths
· Using the Brush and Paint
· Specialized Tools
· Getting Creative with Types
· Using the Symbols
· Designing Graphics
· Effects and Filters
· Playing With Palettes
· Select, View and Object
· Output
· Exporting
· Web and Devices
· Settings
Adobe Photoshop
· Basics of Photoshop CS4
· Introduction
· The Working Place
· Customizing
· Image and Color Modifications
· Tools
· Using the Brush and Paint
· Working with Selections
· Scaling
· Knowing the Layers
· Getting Creative With Types
· Masks
· Filter Gallery
· Playing With Palettes
· Color Adjustments
· Automating
· Web and Devices
· Output
· Settings
Adobe InDesign
· Getting Started
· Creating and Viewing a Document
· Managing Pages and Books
· Managing Text
· Formatting Text
· Placing and working with Graphics
· Working with Objects
· Managing and Transforming Objects
· Working with Points and Paths
· Applying and Managing Color
· Working with Tables
· Working with Styles
· Finalizing Documents
· Exporting a Document
· Print and Output a Document
· Setting Preferences
Evaluation Pattern
Evaluation Pattern of KLiC Courses consists of 4 Sections as per below table: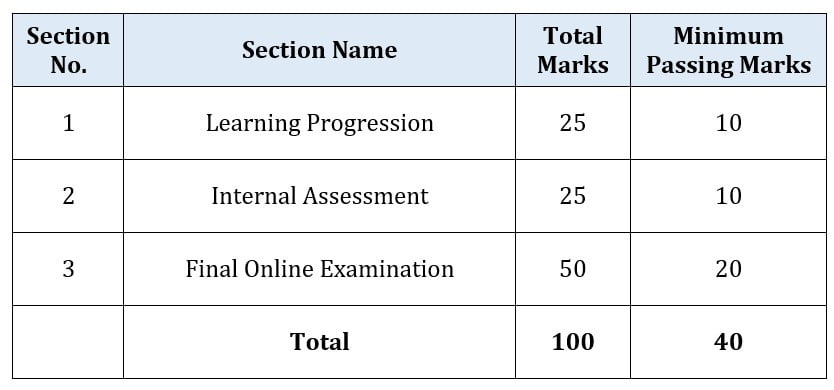 YCMOU Mark Sheet: Printed Mark Sheet will be issued by YCMOU on successful completion of Section 1, Section 2 and Section 3 and will be delivered to the learner by MKCL.
YCMOU Mark Sheet will be available only for Maharashtra jurisdiction learners

MKCL's KLiC Certificate will be provided to the learner who will satisfy the below criteria:
1. Learners who have successfully completed above mentioned 3 Sections i.e. Section 1, Section 2 and Section 3
2. Additionally, learner should have completed Section 4 (i.e. Section 4 will comprise of SUPWs i.e. Socially Useful and Productive Work in form of Assignments)
o Learner has to complete and upload minimum 2 out of 5 Assignments