KLiC IT
In order to enhance learner's job-readiness, social behavior and ultimately the self-confidence, KLiC IT includes:
IT Concepts and General Awareness
Typing Skills
21st Century Job Skills
21st Century Everyday Life Skills
21st Century Study Skills
21st Century Citizenship Skills
Cyber Security Skills
Go Green
Netiquettes
Ergonomics
Course Parity with International Standards
The types of skills covered in UICE IT are – 21st century everyday life-skills, citizenship skills, study skills, job skills along with technical knowledge of operating system/s, MS Office tools, LibreOffice tools and other useful mobile apps and websites that are mapped to the following international IT literary standards:
Why take Admission?
In 21st century, most of the new actionable knowledge has delivered digitally. It is stored, presented, distributed, accessed, archived and managed digitally too. It only seems natural that it has become an essential part of one's personal, professional and social life. It has also transformed the way of living in 21st Century. It attempts to propagate it through IT Awareness, Literacy, Functionality and Applicability among the common people with a view to bridge the Digital Divide and the resultant Knowledge Divide and Development Opportunity Divide. This surely makes a positive impact on one's job-readiness, social behavior and ultimately boosts the self-confidence, enables him/her to work effectively in the 21st Century workplace.
Certification & Important Dates
Certification:
KLiC courses are recognised by Yashwantrao Chavan Maharashtra Open University (YCMOU).
MKCL provides certificate to the KLiC learner after his/her successful course completion.
Yashwantrao Chavan Maharashtra Open University (YCMOU) provides mark sheet to successfully passed KLiC learners (Jurisdiction: Maharashtra).
Important Dates:
Batch Commencement: One batch in each calendar month (January to December)
Date(s) of Application and Fee Payment by Learner: 1st – 30th day of each calendar month
Date(s) of Learner Confirmation by ALC: 1st – 30th day of each calendar month
Course Start Date and Date of Issuing Learner Login: Date of admission confirmation
Academic Approach
The Academic Approach of the course focuses on the "work centric" education i.e. begin with work (and not from a book !), derive knowledge from work and apply that knowledge to make the work more wholesome, useful and delightful. The ultimate objective is to empower the Learner to engage in socially useful and productive work. It aims at leading the learner to his/her rewarding career as well as development of the society.
Learning methodology
Learners are given an overview of the course and its connection to life and work.
Learners are then exposed to the specific tool(s) used in the course through the various real-life applications of the tool(s).
Learners are then acquainted with the careers and the hierarchy of roles they can perform at workplaces after attaining increasing levels of mastery over the tool(s).
Learners are then acquainted with the architecture of the tool or Tool Map so as to appreciate various parts of the tool, their functions and their inter-relations.
Learners are then exposed to simple application development methodology by using the tool at the beginner's level
Learners then perform the differential skills related to the use of the tool to improve the given ready-made outputs.
Learners are then engaged in appreciation of real-life case studies developed by the experts.
Learners are then encouraged to proceed from appreciation to imitation of the experts.
After imitation experience, they are required to improve the expert's outputs so that they proceed from mere imitation to emulation.
Finally, they develop the integral skills involving optimal methods and best practices to produce useful outputs right from scratch, publish them in their ePortfolio and thereby proceed from emulation to self-expression.
Syllabus
In order to enhance learner's job-readiness, social behavior and ultimately the self-confidence, KLiC IT includes:
IT Concepts and General Awareness: As we all know, in 21st Century everything directly or indirectly is linked to Information Technology (IT) e.g. from Use of Smartphone to Drone Technology, Google car, from Smart watches, Fit Bit to 3D printing; it's always vital to be updated with IT concepts. It is also interesting to know some great personalities whose inventions and discoveries have made our life simple and easier. This information will definitely motivate and inspire a learner.
Typing Skills: Learner gets opportunity to learn scientific method of errorless typing while achieving speed acceptable as per the industry norms.
21st Century Job Skills: These are the skills that help to work effectively at the workplace, in combination with various Office automation tools as well as the contextual knowledge and professional know-how. e.g. tasks like: creating Purchase order, Delivery Challan, Meeting agenda and minutes, designing various forms and reports etc.
Century Daily Life Skills: Now-a-days, use of internet, mobile and similar gadgets, and apps available on it have liberated us. 21st Century Daily Life Skills cover such various Apps and Websites that make our daily life easy. e.g. tasks like cashless transactions, online payments, cyber security, modern ways of communication etc.
21st Century Study Skills: The rapidly changing part of life in 21st Century is, mainly the way we learn/study. 21st Century Study Skills helps us to keep up with it, and open new learning avenues. e.g. using various websites/apps for accessing interactive learning objects, virtual labs, accessing knowledge-banks like, TED Talks, Google Scholar etc.
21st Century Citizenship Skills: Being a citizen belonging to 21st Century, everyone should be aware of various online services and facilities made available by central and state government. 21st Century Citizenship Skills help in availing these services effectively. e.g. services like availing passport, Aadhar card, PAN card, various certificates like, birth/death/marriage/income certificate etc.
Cyber Security Skills: Skills that everyone should be aware about. Skills that educate about vulnerabilities while moving around in the cyber world, and best practices for maintaining safety, securing your digital identity. e.g. tasks like: I can protect myself from online spoofing, I can secure my netbanking account with strong password, I can securely share my data on social media sites etc.
Go Green: Go Green section includes knowledge and practices that can lead to more environment friendly and ecologically responsible decisions and lifestyles, which can help protect the environment and sustain its natural resources for current and future generations.
Netiquettes: Netiquettes are the correct way to use the internet. This includes communicating in a polite manner whether through mail, chat or forums, respecting copyright issues, posting topics, respecting the time of others, etc. All these aspects are covered in this section.
Ergonomics: Ergonomics is the process of designing or arranging workplaces, products and systems so that they fit the people who use them. Here in this section, a learner will go through a series of videos that help in improving their behavior at workplaces and make them cope up with different environments to minimize risk of injury or harm.
Software Tools:
Internet
Windows 7
Google Chrome
MS Word 2013
Google Docs
MS Excel 2013
Google Sheets
MS PowerPoint 2013
Google Slides
MS Outlook 2013
Gmail Inbox
Ergonomics
Go Green
Netiquettes
Cyber Security Skills
Evaluation Pattern
Evaluation Pattern of KLiC Courses consists of 4 Sections as per below: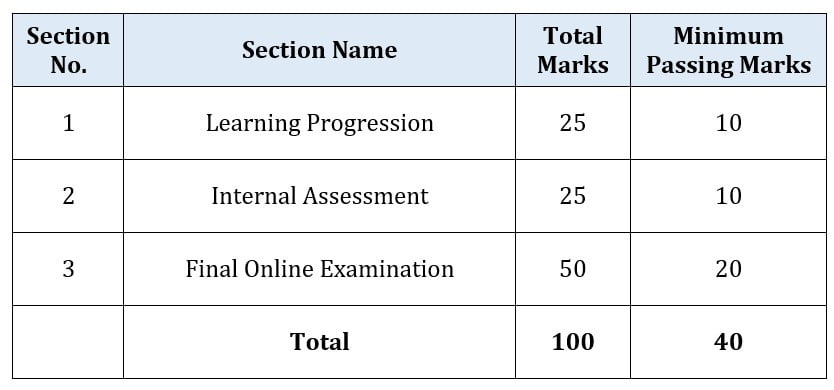 YCMOU Mark Sheet: Printed Mark Sheet will be issued by YCMOU on successful completion of Section 1, Section 2 and Section 3 and will be delivered to the learner by MKCL.
YCMOU Mark Sheet will be available only for Maharashtra jurisdiction learners

MKCL's KLiC Certificate will be provided to the learner who will satisfy the below criteria:
Learners who have successfully completed above mentioned 3 Sections i.e. Section 1, Section 2 and Section 3
Additionally, learner should have completed Section 4 (i.e. Section 4 will comprise of SUPWs i.e. Socially Useful and Productive Work in form of Assignments)
Learner has to complete and upload minimum 2 out of 5 Assignments