Security Support
Who is an IT Security Support Technician ?
IT Security Support Technician is the one who can:
Identify, diagnose, troubleshoot, resolve internet & intranet security related issues
Monitor and maintain the uptime of various types of network security devices such as:

Antivirus server and clients
Hardware and software Firewalls
Intrusion detection and Prevention Systems
Wi-Fi Access points
What does an IT Security Support Technician do?
Using Basic knowledge about viruses, malwares, spyware, cyber security policies, etc. he/she can perform following functions:
Diagnosing and resolving the basic IT security related problems
Primary level of fault finding and take necessary actions
Installing and Configuring antivirus software & its update
Installing and configuring windows firewalls
Configuring secure remote access
Configuring & maintaining a secure Wi-Fi network
Why take Admission?
A Security support technician can cater to companies / enterprises having an IT infrastructure including:
Desktop and network Firewalls
Intrusion detection and Prevention Systems with Internet connectivity OR,
In the companies which are providing
Antivirus, Antispam, Firewalls and other cyber security software and hardware sales & support
Pay Scale
A fresher can earn up to Rs. 100,000/- p.a.
Hierarchy
In any typical industry enterprise having even a basic IT infrastructure, he/she would work with a team of network security administrators, ethical Hackers, Security Support consultants. This will give him/her exposure. He/She can further pursue to become a:
Network Security Engineer, or
Penetration Tester as per his/her liking and abilities
Tools
Typically an IT Security support technician would make use of tools like:
Antivirus and antispyware software
Open source Software Firewalls
Open source Ethernet packet capturing tools for providing IT Security support
Knowledge of few other skills like:
Encryption techniques
Biometric Authentications tools
MAC Address filtering
VPNs can be beneficial for a Security support technician
Certification & Important Dates
Certification:
KLiC courses are recognised by Yashwantrao Chavan Maharashtra Open University (YCMOU).
MKCL provides certificate to the KLiC learner after his/her successful course completion.
Yashwantrao Chavan Maharashtra Open University (YCMOU) provides mark sheet to successfully passed KLiC learners (Jurisdiction: Maharashtra).
Important Dates:
Batch Commencement: One batch in each calendar month (January to December)
Date(s) of Application and Fee Payment by Learner: 1st – 30th day of each calendar month
Date(s) of Learner Confirmation by ALC: 1st – 30th day of each calendar month
Course Start Date and Date of Issuing Learner Login: Date of admission confirmation
Academic Approach
The course focuses on practical knowledge and application. The aim is to make the learner efficient and to offer him or her rewarding career.
Learning Methodology
The participants get the Overview of the course, use of tools and their application in real life
He or She learns about available career opportunities, roles to be performed at the workplace
Learner gets to know various parts, functions and inter relations of the tool
At the Beginner Level, the learner knows the Simple Application Development Technology
Encourage him or her to develop integral skills required to make them job-ready
Syllabus
Skills: Using Antivirus Software, Antispam Technologies, Configuring Windows Firewall, Firewalls ,Proxy server and routers, MAC Address Filtering, Network Address Translation, Secure Remote Access, Authentication and Encryption, Man in the Middle of Attack, Denial of Service Attack, Using network packet capturing tool
Tools: Open source antivirus, Antispyware, Windows firewall, Wifi security settings, Antispam settings
Detailed Syllabus:
Removing Viruses and Malwares
Using Antivirus Software
Adware's and Spywares
Antispam Technologies
Installing Free Antivirus and Scanning the PC
Installing Free Antispyware and scanning Pc for Adware and Spywares
Securing LAN
Firewalls
Proxy server
Routers
Configuring Windows Firewall
Overview of IPS and IDS
Securing Servers – Server Hardening
Windows Server Hardening
Securing Wi-Fi Network
WEP, WPA and WPA2
MAC Address Filtering
Network Access Security
Authentication and Encryption
Network Address Translation
Secure Remote Access
Secure Remote Access – Configuring VPN in Windows 7
Cyber Attacks
Common Cyber Attack
Man in the Middle Attack
Denial of Service Attack
Using network packet capturing tool
Evaluation Pattern
Evaluation Pattern of KLiC Courses consists of 4 Sections as per below table: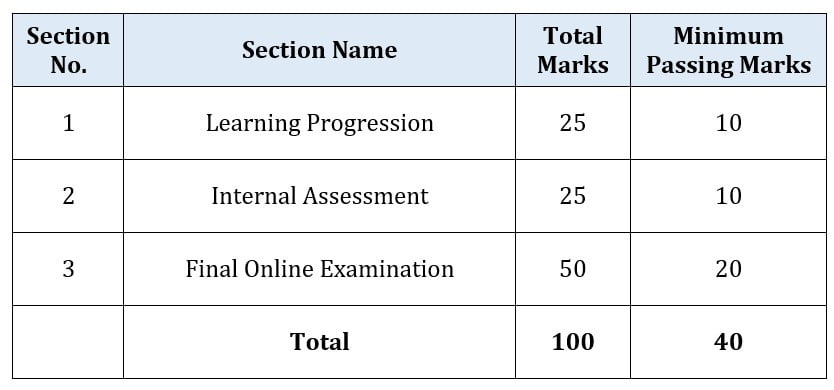 YCMOU Mark Sheet:Printed Mark Sheet will be issued by YCMOU on successful completion of Section 1, Section 2 and Section 3 and will be delivered to the learner by MKCL.
YCMOU Mark Sheet will be available only for Maharashtra jurisdiction learners

MKCL's KLiC Certificate will be provided to the learner who will satisfy the below criteria:
Learners who have successfully completed above mentioned 3 Sections i.e. Section 1, Section 2 and Section 3
Additionally, learner should have completed Section 4 (i.e. Section 4 will comprise of SUPWs i.e. Socially Useful and Productive Work in form of Assignments)
Learner has to complete and upload minimum 2 out of 5 Assignments