Hardware Support
Who is an IT Hardware Support Technician ?
In simple words Hardware Support Technician is the one who installs, Troubleshoot, repairs, maintains various types of Hardware IT assets. These IT Hardware assets can be Desktops, Laptops, Printers, Scanners, Power supply, RAM, Cooling Systems, and Monitors etc.
What does an IT Hardware Support Technician do?
Using Basic Troubleshooting skills he/she can identify diagnose and resolve the Basic IT hardware related problems. He/She can do primary level of fault finding and repairing for IT hardware. He/She can also perform tasks like Assembling PCs, Laptops, Installing RAMs, replacing Power supply are few such more services an IT hardware support technician can offer.
Why take Admission?
A hardware support technician can work with companies/enterprises having an IT infrastructure including desktops and laptops or the companies who are providing hardware sales and support.
He/She can do a job or can work as an IT Hardware Support Consultant. A fresher can draw up to Rs. 100,000/- p.a.
Hierarchy
In any typical industry enterprise having even a basic IT Infrastructure including desktops and laptops, he/she would work with a team of such more hardware and network support technicians who would guide them. He/She can further pursue to become a System Engineer or a System administrator as per his/her liking and abilities.
Tools
Typically an IT Hardware Support Technician uses tools like IT Helpdesk, hardware monitors, and multi-meters for providing hardware support. Knowledge of few other tools like memtest86, CPUID (open source system hardware monitoring tool), and few similar open source tools can be beneficial for an IT Hardware Support Technician.
Certification & Important Dates
Certification:
KLiC courses are recognized by Yashwantrao Chavan Maharashtra Open University (YCMOU).
MKCL provides certificate to the KLiC learner after his/her successful course completion.
Yashwantrao Chavan Maharashtra Open University (YCMOU) provides mark sheet to successfully passed KLiC learners (Jurisdiction: Maharashtra).
Important Dates:
Batch Commencement: One batch in each calendar month (January to December)
Date(s) of Application and Fee Payment by Learner: 1st – 30th day of each calendar month
Date(s) of Learner Confirmation by ALC: 1st – 30th day of each calendar month
Course Start Date and Date of Issuing Learner Login: Date of admission confirmation
Academic Approach
The course focuses on practical knowledge and application. The aim is to make the learner efficient and to offer him or her rewarding career.
Learning Methodology –
The participants get the Overview of the course, use of tools and their application in real life
He or She learns about available career opportunities, roles to be performed at the workplace
Learner gets to know various parts, functions and inter relations of the tool
At the Beginner Level, the learner knows the Simple Application Development Technology
Encourage him or her to develop integral skills required to make them job-ready
Syllabus
KLiC Certificate in IT Hardware Support
Skills: Identifying PC Components, Identifying System Unit Components, Identifying Storage Devices, Assembling a PC, Installing and Configuring a Printer, Troubleshooting and Maintaining Printers, Troubleshooting PC Hardware, Managing safety Hazards, Communication and Professionalism
Tools: PC Hardware, Hardware Monitoring Tools, Multi meters
Detailed Syllabus:
Identifying System Unit Components
Motherboard Overview
Motherboards -Input-output Ports
Motherboards Expansion Slots
Motherboard buses
Motherboards-CPU Sockets
Understanding CPU Characteristics -Part 1
Understanding CPU Characteristics -Part 2
CPU Cooling Techniques
Motherboards-Jumpers and Power Connectors
Motherboards -Fans
Multimedia Devices
Display Cables and Connectors
Identifying Storage Devices
SATA Drives
PATA Drives
SCSI Drives
RAID Drives -Part 1
Understanding Laser Printers -Part 1
Understanding Laser Printers -Part2
Laser Printer Maintenance-Calibration & Cleaning
Laser Printer -Toner Replacement & Maintenance Kits
Understanding Inkjet Printers
Inkjet Printer Cleaning and Maintanance
Understanding Thermal Printers
Understanding Impact Printers
Setting up and Installing a Printer
Installing Various Types of Hardware Components
Assembling a PC
Overview of Laptop Hardware
Laptop Hardware- Speakers, Motherboards & CPU
Laptop Hardware-Memory & Optical Drives
Laptop RAM and SSDs
Laptop Components- Express Cards
Laptop Components- Expansion Cards
Tablets vs Laptops
Overview of Laptop Hardware
Laptop Hardware- Speakers, Motherboards & CPU
Laptop Hardware-Memory & Optical Drives
Laptop RAM and SSDs
Laptop Components- Express Cards
Laptop Components- Expansion Cards
Tablets vs Laptops
Troubleshooting IT Hardware
Working with BIOS
Configuring BIOS settings
Troubleshooting Hard Drives
Troubleshooting Printers
Evaluation Pattern
Evaluation Pattern of KLiC Courses consists of 4 Sections as per below table: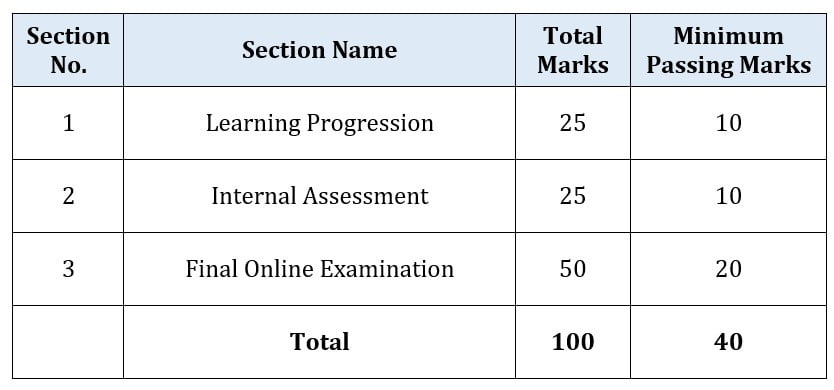 YCMOU Mark Sheet:Printed Mark Sheet will be issued by YCMOU on successful completion of Section 1, Section 2 and Section 3 and will be delivered to the learner by MKCL.
YCMOU Mark Sheet will be available only for Maharashtra jurisdiction learners

MKCL's KLiC Certificate will be provided to the learner who will satisfy the below criteria:
Learners who have successfully completed above mentioned 3 Sections i.e. Section 1, Section 2 and Section 3
Additionally, learner should have completed Section 4 (i.e. Section 4 will comprise of SUPWs i.e. Socially Useful and Productive Work in form of Assignments)
Learner has to complete and upload minimum 2 out of 5 Assignments