Photoshop
Introduction
Photoshop is a photo editing and manipulating software used to edit photos, digital drawings and paintings. This course will be a foundation for Career in Digital Arts. After successful completion of the course, the learner can attempt International Certification – Adobe Certified Expert in Photoshop.https://www.photoshop.com/en
Why take Admission?
After completing this course, the learner can work as a Graphic Designer, Graphic Editor, Illustrator, and Background Artist.
Certification & Important Dates
Certification:
KLiC courses are recognised by Yashwantrao Chavan Maharashtra Open University (YCMOU).
MKCL provides certificate to the KLiC learner after his/her successful course completion.
Yashwantrao Chavan Maharashtra Open University (YCMOU) provides mark sheet to successfully passed KLiC learners (Jurisdiction: Maharashtra).
Important Dates:
Batch Commencement: One batch in each calendar month (January to December)
Date(s) of Application and Fee Payment by Learner: 1st – 30th day of each calendar month
Date(s) of Learner Confirmation by ALC: 1st – 30th day of each calendar month
Course Start Date and Date of Issuing Learner Login: Date of admission confirmation
Academic Approach
The course focuses on practical knowledge and application. The aim is to make the learner efficient and to offer him or her rewarding career.
Learning Methodology
The participants get the Overview of the course, use of tools and their application in real life
He or She learns about available career opportunities, roles to be performed at the workplace
Learner gets to know various parts, functions and inter relations of the tool
At the Beginner Level, the learner knows the Simple Application Development Technology
Encourage him or her to develop integral skills required to make them job-ready
Syllabus
Adobe Photoshop
Skills: Working Place, Customizing, Image and Color Modifications, Case Study – Black & White to Color, Using the Brush and Paint, Working with Selections, Scaling, Knowing the Layers, Filter Gallery, Color Adjustments
Outputs: Red Eye correction, Photo Collage, Mapping to Object-MUG, T-Shirt Design, Photo Correction, Photo Manipulation, Cleaning Photo
Detailed Syllabus:
Photoshop
Basics of Photoshop
Introduction
The Working Place
Customizing
Image and Color Modifications
Tools
Using the Brush and Paint
Working with Selections
Scaling
Knowing the Layers
Getting Creative with Types
Masks
Filter Gallery
Playing with Palettes
Color Adjustments
Automating
Web and devices
Animating and Slicing
Output
Settings
Adobe Bridge
Duration
120 hours to be covered in 2 months (8 weeks).
Evaluation Pattern
Evaluation Pattern of KLiC Courses consists of 4 Sections as per below table: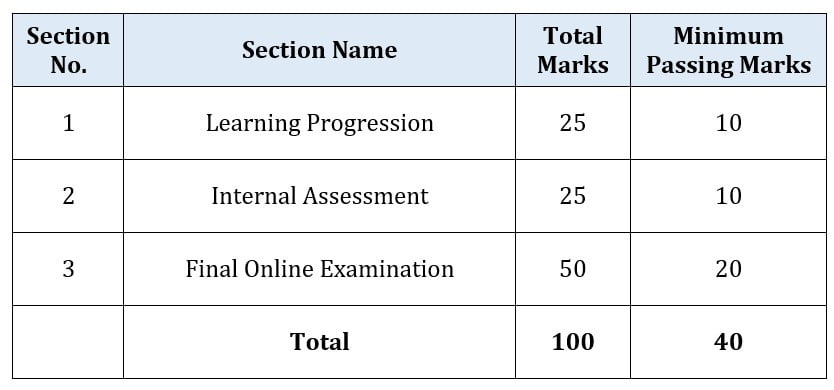 YCMOU Mark Sheet: Printed Mark Sheet will be issued by YCMOU on successful completion of Section 1, Section 2 and Section 3 and will be delivered to the learner by MKCL.
YCMOU Mark Sheet will be available only for Maharashtra jurisdiction learners

MKCL's KLiC Certificate will be provided to the learner who will satisfy the below criteria:
Learners who have successfully completed above mentioned 3 Sections i.e. Section 1, Section 2 and Section 3
Additionally, learner should have completed Section 4 (i.e. Section 4 will comprise of SUPWs i.e. Socially Useful and Productive Work in form of Assignments)
Learner has to complete and upload minimum 2 out of 5 Assignments