Digital Freelancing
Participation of Indian youth in today's Digital Freelancing world is increasing exponentially. Having a knowledge about Digital Freelancing and getting used to these platforms is important in these days. This will offer following advantages to our youth in building their career easily:
They can choose their projects and customers (whom to work for)
They can work from home and they can enjoy flexibility in working time
They will have good exposer of international clients and work style
They will have an excellent opportunities of earning
They can manage many projects at a same
They can use their acquired skill sets to encash many opportunities
They can work on large projects in collaborationon and coordination with other freelancers
The main objective of this course is to empower our youth with required knowledge and skill sets for freelancing work, which will help them in economic development.
In today's world, there is rise of huge number of jobs under freelancing opportunities in digital space. MKCL's KLiC Digital Freelancing Course is aimed to teach learners various skills and tools through which they can tap many freelancing opportunities available on various platforms. This course aims to make each and every learner "Work Locally and Earn Globally".
This is unique app is launched by MKCL to facilitate KLiC Digital Freelancing Learners to learn course content on their smartphone.
Introduction
Digital Freelancing Opportunities are increasing exponentially. This course promotes the concept "Work Locally, Earn Globally". It focuses on skills required to tap the freelancing opportunities on various platforms. The participants can get following benefits –
They can choose their projects and customers
They can work from home, can have flexible work timings
They will get exposure to International Clients and their work styles
They can handle multiple tasks at the same time
They can collaborate with other Freelancers on various projects
Why take Admission?
This course will help you to build you confidence about Digital Freelancing world. We will guide you to start your Digital Freelancing journey and provide you various tricks and tips for getting better deals. This will help you to find interesting projects with which you can start your earning.
Register Online
Learner can choose any of the following option:
Online Registration: Learner needs to visit www.mkcl.org/join and make an online payment for admission confirmation. Kindly refer online admission process guidelines for more details.
Register at Center: Learner can contact preferable MKCL's Authorised learning center and coordinate with them for registration process
Learning Mode
Learner can learn this course online on his/her Mobile as per his/her convenience.
Learner needs to download KLiC Digital Freelancing App from Google Play store using following link.
www.mkcl.org/digitalfreelancingapp
He/She needs to use login ID & password which is generated after successful registration.
Certification & Important Dates
MKCL provides certificate to the KLiC learner after his/her successful course completion.
Important Dates:
Certification:
Batch Commencement: One batch in each calendar month (January to December)
Date(s) of Application and Fee Payment by Learner: 1st – Last day of each calendar month
Date(s) of Learner Confirmation by ALC: 1st – Last day of each calendar month
Course Start Date and Date of Issuing Learner Login: Date of admission confirmation
Academic Approach
The course focuses on freelancing tools, their application and on building strong profile on freelancing portals. The objective is to offer rewarding career to the participants.
Learning Methodology
The participants get the Overview of the course, use of tools and their application in real life
He or She learns about available career opportunities, roles to be performed at the workplace
Learner gets to know various parts, functions and inter relations of the tool
At the Beginner Level, the learner knows the Simple Application Development Technology
He or she can develop the tool and the given ready-made outputs
The learner gets Skills set important to get job opportunities in fields like Designing, Data Entry, Programming Basics, Photo Editing etc.
Gets to study real life case studies from the experts. Later to exercise them and improve on their own.
Syllabus
All About Freelancing
Data Entry Operator
Art Appreciation
Basic Programming Concepts
SCRATCH Programming
Book Cover Designer
Brochure Designer
Business Card Designer
Certificate Designer
Corporate Gift: Mug Designer
Corporate Gift: T
Event Invitation Designer
Flyer Designer
Magazine Cover Designer
Newspaper Advertisement Designer
Photo Background Remover
Photo Retouching and Editing
Poster Designer
Slideshows & Promo Videos Creator
Social Media Designer and Marketer
Social Media Promotional Creatives
The World of Graphic Design
The World of Graphic Design
Vector Tracing
Wedding Invitation Designer
Evaluation Pattern
After successful completion of course, learners need to appear for final exam.
Evaluation Pattern of KLiC Courses consists of 4 Sections as per below table: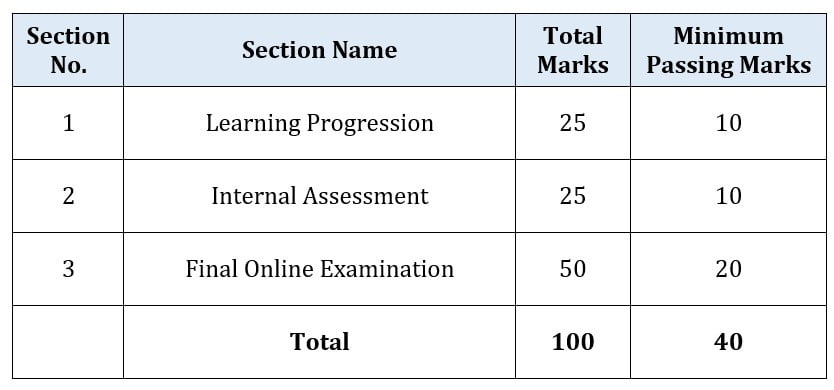 MKCL's KLiC Certificate will be provided to the learner who will satisfy the below criteria:
Learners who have successfully completed above mentioned 3 Sections i.e. Section 1, Section 2 and Section 3
Additionally, learner should have completed Section 4 (i.e. Section 4 will comprise of SUPWs i.e. Socially Useful and Productive Work in form of Assignments)
Learner has to complete and upload minimum 2 out of 5 Assignments