Art Teacher
Great Art teachers nurture their students to be an artist for a lifetime. They become the most favorite teachers of the students. They help students to have a fulfilled life with artistic ability, attitude and aesthetic appreciation.
MKCL brings you the KLiC Art teacher course to enable Art teachers to become Sm-Art Teachers.
KLiC Art teacher course helps you learn and use technology extensively in teaching and learning.
This course helps you plan the learning experience of students.
It helps you manage curricular and co-curricular School activities.
You can upskill yourself by learning new Design applications and using them effectively in the workplace.
Along with technology, you learn methodologies and instructional strategies to improve learner's engagement and experience.
Why take Admission?
KLiC Art teacher helps to solve problems that an adult learner regularly encounters.
KLiC Art teacher course helps teachers teach Artistic skills, knowledge and understanding of Arts effectively.
It exposes art teachers to the rich heritage of the nation.
This course guides to using the arts with other subjects.
It has various case studies that will help to teach arts with varied methods and best practices.
KLiC Art Teacher course helps Art teachers in their professional development.
It helps Art teachers get respect and dignity at their workplace
Course Delivery
Learn at ALC – Learner can complete this course at nearest MKCL's Authorised Learning Center (ALC). ALC provides standard classroom where learner can complete his/ her sessions.
Learning Mode
Learner needs to complete this course at MKCL's Authorized Learning Center (ALC)
The course focuses on the classroom based sessions where the students will be given video lectures via projector in a classroom setup.
Smartphone based session end tests and results will be the new features implemented in this course.
Admission Guidelines
Admission through ALC:
Select Course & batch
Learner data entry by ALC through ALC's SOLAR Login
Learner Payment confirmation
Provide the login credential to the learner
Academic Approach
This course is task-oriented. It focuses on various day to day tasks that the Teacher has to do. This course provides multiple know how's and digital skills that helps art teachers do their work easier and faster.
The course explains the best practices and methods of Art education through high-quality videos about the Digital Arts and new media skills that can help in teaching Art, appreciating Art, and assessing Art.
This course gives various ideas, case studies and sample lesson plans that help art teacher to conduct offline or online classes. It has demonstrations and learning objects in the latest digital art tools.
It has a separate module on various teaching-learning methods in Art education. Through these digital art software, Art teachers can create an engaging learning experience for their students.
The KLiC Art Teacher course is structured according to various roles art teachers have to play in their professional life.
Syllabus
What are the best practices for an Art teacher?
Apps, Software, Online websites and portals used in Art Teacher course
| Sr. No. | Apps | Software | Online Sites and Portals |
| --- | --- | --- | --- |
| 1 | Canva | CorelDraw | Tools for educators |
| 2 | Keep Notes | Adobe InDesign | Goggle Art and Culture |
| 3 | FilmoraGo | MS Excel | Khan's Academy |
| 4 | Recorder | Power Point | WikiHow |
| 5 | Google Lens | Microsoft calendar tool | WordPress |
| 6 | DailyArt | Google calendar | Blogspot.com |
| 7 | National Art Gallery | Camtasia software | Online mockup generator_immagiPic |
| 8 | Google Translate | Adobe Photoshop | Wikipedia |
| 9 | Gboard | Blender | Wikimedia |
| 10 | ePathshala | Audacity | Graphic Burger |
| 11 | Rubric Scorer App | Scratch | Behance |
| 12 | | | Pinterest |
| 13 | | | YouTube channel |
| 14 | | | Blogger.com |
| 15 | | | ConceptArt.org-Art Forum |
| 16 | | | Creative Blog |
| 17 | | | Google books |
Evaluation Pattern
Evaluation Pattern of KLiC Courses consists of 4 Sections as per below table: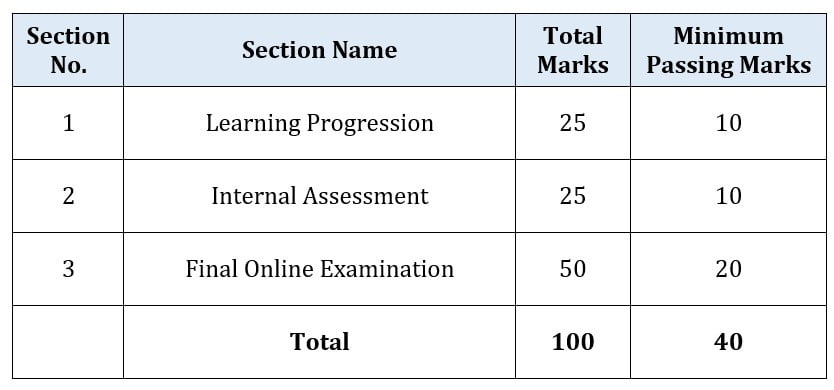 YCMOU Mark Sheet:
Printed Mark Sheet will be issued by YCMOU on successful completion of Section 1, Section 2 and Section 3 and will be delivered to the learner by MKCL. YCMOU Mark Sheet will be available only for Maharashtra jurisdiction learners