3D Texturing and Lighting
Who is a texturing artist?
The Texturing Artist is a person with 2D drawing and painting skills, he / she understands lighting, shades, colors and composition of the art work. He / she creates realistic textures that are applied to 3D models and environments in games, TV, shows etc.
Why take Admission?
Texturing is the process of creating and applying textures to the 3D model whereas Lighting is the visual representation. The roles of texturing and lighting are vital in 3D commercials and product visualization.
Certification & Important Dates
Certification:
KLiC courses are recognised by Yashwantrao Chavan Maharashtra Open University (YCMOU).
MKCL provides certificate to the KLiC learner after his/her successful course completion.
Yashwantrao Chavan Maharashtra Open University (YCMOU) provides mark sheet to successfully passed KLiC learners (Jurisdiction: Maharashtra).
Important Dates:
Batch Commencement: One batch in each calendar month (January to December)
Date(s) of Application and Fee Payment by Learner: 1st – 30th day of each calendar month
Date(s) of Learner Confirmation by ALC: 1st – 30th day of each calendar month
Course Start Date and Date of Issuing Learner Login: Date of admission confirmation
Academic Approach
The course focuses on practical knowledge and application. The aim is to make the learner efficient and to offer him or her rewarding career.
Learning Methodology –
The participants get the Overview of the course, use of tools and their application in real life
He or She learns about available career opportunities, roles to be performed at the workplace
Learner gets to know various parts, functions and inter relations of the tool
At the Beginner Level, the learner knows the Simple Application Development Technology
Encourage him or her to develop integral skills required to make them job-ready
Syllabus
Skills: 3D movies, Comprehend CGI, CG Lighting artist, Open ended activity, Lighting to 3D Primitive, Different types lights & light setup, presenting a organic model, lighting scenes according to environment or ambience.
CG Texturing artist, Open ended activity, Texture to 3D Primitive, Different types of Maps, Start using xNormal, Monster, Anisotropic Utensils, Projection Painting
Outputs: Realistic glass, Desert scene, IES light, Gobo light, Bloom Effect, Indoor scene, Night lighting for Desert scene, Bokeh effect, HDRI lighting Earth/Globe, Sword, Stone, Wooden Chair, Glass and Milk texture, Bronze, Subsurface Scattering, Match Box
Detailed Syllabus:
Watching 3D movies
Entering into CGI industry
Beginning with CGI
Taking a career path in 3D industry
Freelancing ,Selling 3D Content
Getting started with 3D software
Working with Blender
Situation first model
What is Lighting
How to use spot lamp to create table lamp lighting
How to apply atmospheric lighting to Desert scene
How to use point lamp to create lightball with pillars
How to use area light to create TV unit light setup
What are advantages of cycles render in lighting
How to use Global illumination colour bleeding light bouncing
How to use Light Path Node to create realistic glass
How to use Blackbody Node for color temperature
How to use emission shader to create neon light
How to illuminate a brick room using primitives with emitting light
How to light interior room using IES light
How to create IES lighting manually
How to use studio light for presenting a organic monster model
How to enhance Pool table using HDRI lighting
How to add realism to a scene using Gobo light
How to use Normal Map in lighting
How to bake AO maps for indoor room
How to add Bloom Effect to an image using composite nodes
How to enhance dessert scene by using Sun flare
How to use spot lamp as light shafts from the Tree
How to use camera and emission to create bokeh effect
How to add caustics for under water scene
How to enhance a Corridor scene by adding fog
How to create day lighting for indoor scene
How to light indoor scene in game engine
How to create night lighting for indoor scene
How to create night lighting for Desert scene
Begin with 3D Texturing: a new Texturing artist takes references
How to create Earth / Globe
How to create Colgate Box
How to create Match box
How to create different types of Maps
How to create Sword
How to create Stone
How to create Monster
How to apply Shaders to Primitive
How to texture on Sphere Objects in cycle render
How to create Wooden chair
How to create Bulb
How to create Glass and Milk Texture
How to create Gold
How to create Bronze
How to create Anisotropic Utensils
How to create Tea Cup (Ceramic Shading)
How to create Subsurface Scattering
How to use Projection Painting
Other than CG Lighting artist in brief
The Story of CGI
Evaluation Pattern
Evaluation Pattern of KLiC Courses consists of 4 Sections as per below table: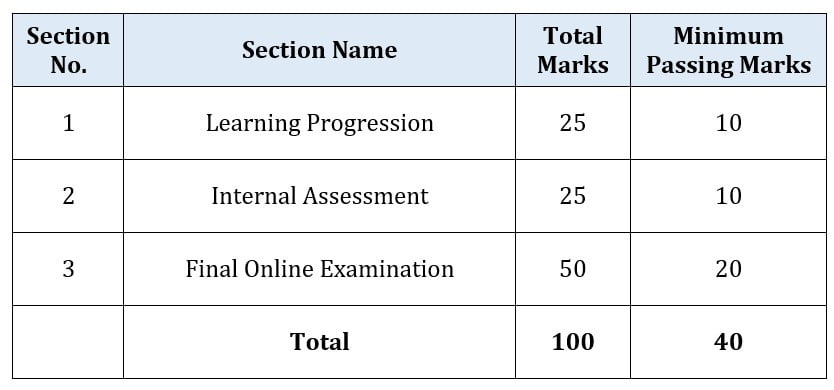 YCMOU Mark Sheet:Printed Mark Sheet will be issued by YCMOU on successful completion of Section 1, Section 2 and Section 3 and will be delivered to the learner by MKCL.
YCMOU Mark Sheet will be available only for Maharashtra jurisdiction learners

MKCL's KLiC Certificate will be provided to the learner who will satisfy the below criteria:
Learners who have successfully completed above mentioned 3 Sections i.e. Section 1, Section 2 and Section 3
Additionally, learner should have completed Section 4 (i.e. Section 4 will comprise of SUPWs i.e. Socially Useful and Productive Work in form of Assignments)
Learner has to complete and upload minimum 2 out of 5 Assignments